Puppeteer Frank Norman Stein is busy rehearsing his new show "George the Dragon Slayer" but he's finding it really difficult with his badly made puppets that keep falling apart! Taking inspiration from the scientist Dr Frankenstein, and with the help of the audience he creates a new real live puppet that is destined to change his life forever!
Creature George emerges from the workshop, innocent and willing to learn, but Frank is so intent on his rehearsal that he neglects to look after his new child.
A little horror for little horrors! A treat not to be missed! Little Frankenstein will tickle the imagination of everyone from 5 to 105 years old.
Duration: 50 minutes.
Suitability: 5+/Family
Puppets / Play: Liz & Daniel Lempen
Direction: Martin Bachmann
Music: Loz Kaye
Special thanks to: Vanessa Card (props) and Horse + Bamboo Theatre (rehearsal space)
Apart from touring all over the UK, 'Little Frankenstein' has also been performed internationally as 'Klein Frankenstein' in:


GERMANY: 2018 Saarbrücken, Kleines Theater im Rathaus
AUSTRIA: 2017 39. Internationale Puppentheater Tage, Mistelbach
GERMANY: 2016 33. Pole Poppenspäler Festival, Husum
GERMANY: 2016 18. Elbe-Elster Puppentheater Festival
GERMANY: 2016 4. Int. Figurentheaterfestival, Kloster Haydau. Morschen
SWITZERLAND: 2015 Marionetten Theater im Waaghaus, Winterthur
LIECHTENSTEIN: 2015 School Tour
SWITZERLAND: 2015 Berner Puppentheater, Bern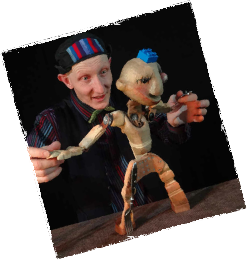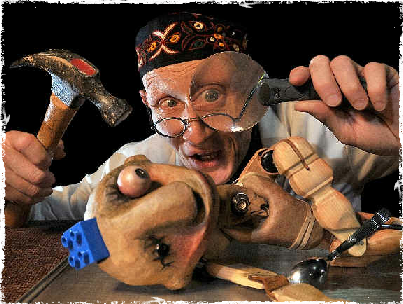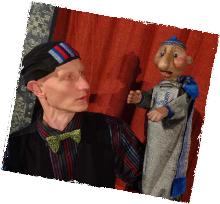 - "It was great when the audience got
involved with creating George."
~O~
- "Enjoyable bonkers performance!"
~O~
- "It was very funny, thank you!"
~O~
- "Awesome!"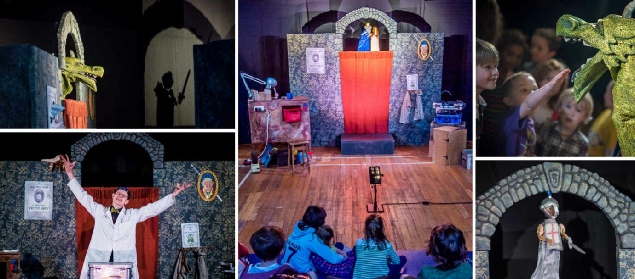 "There is some suspense as the electricity flows across the stage and the audience-created thunderstorm brings Creature George to life. But it's once the puppeteer disappears off-stage and the Creature really does appear to move, unaided, that the magic really starts. He really takes control of the show, much to the audience's delight. The puppetry in these final scenes is expert, in particular a comic fight between George and the dragon in which Creature George creates a gentler ending for the traditional slayer tale".
Nicola Yeeles, Bristol247.com
~O~
"Daniel Lempen is a lively entertainer and he has a highly unusual face, which makes you believe that he really could be a frustrated puppet scientist. He has a great rapport with the audience and the kids seem engaged every step of the 55 minutes".
Becky Condron, Bristol Festival of Puppetry