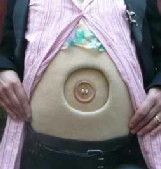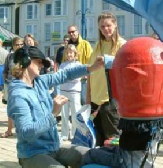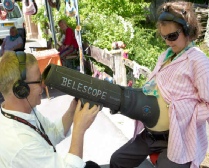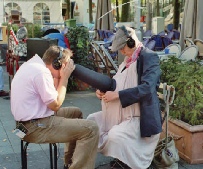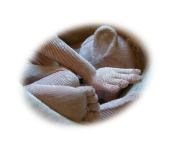 "A simple idea, the best ones often are, created with such loving care and attention to detail that you just have to smile. Sometimes three minutes is
all that's needed!" Dorothy Max Prior, Animations Online
Full "animations" review: here
The individual stories:
We play these stories in:
English, German, French, Italian, Portuguese, Danish and Finnish.
(Please ask for new language versions. Any language is possible!)
These mini shows are suitable for Festivals, Museums, Foyers etc...
ANIMATIONS ONLINE
by Dorothy Max Prior at x.trax/Feast, Manchester, June 2008
And so as the day draws to an end, I take one last stroll around the lake, and what do I find? Yes, Lempen Puppet Theatre! They were there all along, how could I have missed them? They are packing up for the day, but very kindly agree on one more for the road. And what a treat! Daniel and Liz Lempen each (individually) create a three-minute show for their audience of one. First up is Dan's Baby, in which the audience member gets to look down a tube (a bit like an overgrown version of those horn-like things that midwives once used) at the swollen belly of the 'world's first pregnant man'. A little pair of muslin curtains inside the 'abdomen' is pulled back and there's the wee baby, a funny little soft pink elf-like thing wriggling and squirming and peeking cheekily out at the observer. A simple idea, the best ones often are, created with such loving care and attention to detail that you just have to smile. Liz Lempen's Riverbed Drive involves sitting with a giant diver's helmet on your head. It reminds me of having my hair permed (when I was a bridesmaid once long ago, if you must know). Do hairdressers still have those strange space-helmet contraptions? Anyway, the visor becomes the stage for the ensuing delightful mini shadow-puppetry show. Frolicking fishes, dancing boots, frisky frogs – and 'the river bed' is exactly that, a bed. A sweet and lovely little show. Sometimes three minutes is all that's needed!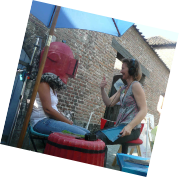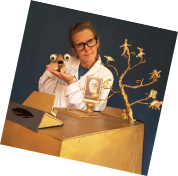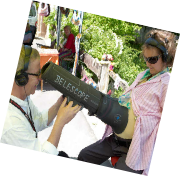 Story 1: RIVERBED DIVE

Enjoy a calming journey amidst a busy town centre.
Dive to the riverbed without getting wet and find out
who lives there...
Story 3: THE BELLY BUG

Have a look down the "Belescope" and see the habitat and habits of the belly bug.
Enjoy the dance of life!
Story 5: DARWIN'S WORKSHOP
From the workshop of the school of Charles Darwin we have a time travelling box that is connected to the roots of the tree of life. Now we can discover the origin of species. Let's look at the modern puppet!
Story 2: DAN'S BABY
An in-utero private view of the World's first pregnant man. Watch the cute, but rather strange baby as it moves around in the belly.


Story 4: DR FRANKENSTEIN

Come and join Dr Frankenstein at his work table
and watch him at work. Unsurprisingly he's
creating a new life!